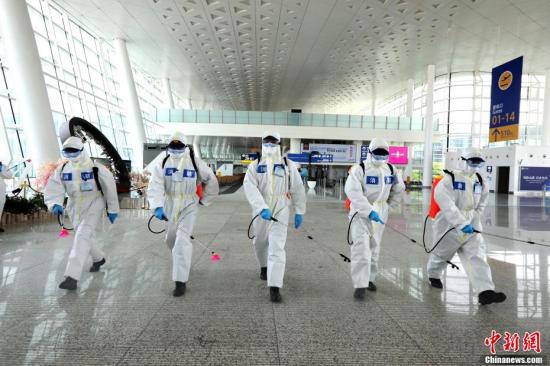 Firefighters carry out comprehensive disinfection and sterilization at Wuhan Tianhe International Airport, April 3, 2020. (File photo/China News Service)
Special: Battle Against Novel Coronavirus
(ECNS) -- Domestic passenger services at Wuhan Tianhe International Airport will resume on April 8 after a 76-day lockdown since Jan. 23 due to the novel coronavirus outbreak in the city, the Civil Aviation Administration of China stated.
Before entering the terminal, passengers should scan a "Wuhan Fighting Epidemic" QR code and show their "green code", a QR code issued in Hubei indicating the traveler is healthy. The elderly and minors who did not apply for the health code should carry their health certificates issued by their communities or villages.
At the terminal entrance, passengers need to have their "non-contact" temperatures taken. Those whose temperatures exceed 37.3℃ will be treated according to the relevant epidemic prevention rules.
Self-service check-in and online check-in machines will remain closed until further notice.
Passengers who have travelled abroad in the past 14 days need to scan the "Wuhan Fighting Epidemic" QR code and report their health status to airport staff.
Wuhan Tianhe is the last airport in Hubei to resume operations since all passenger and cargo flights on domestic air routes opened on March 29.