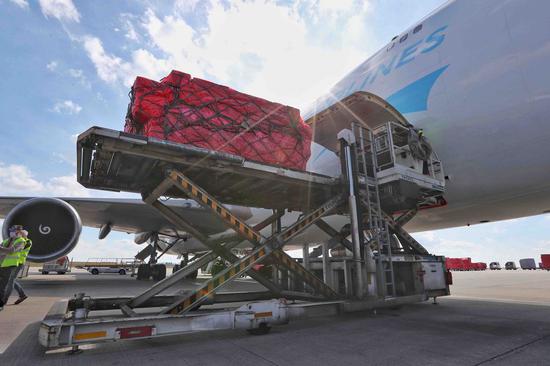 Medical materials from China arrive at the Liege airport in Belgium, on March 18, 2020.(Xinhua/Zheng Huansong)
Special: Battle Against Novel Coronavirus
"Together we are stronger","l'union fait la force", "Berg und Tal kommen nicht zusammen, wohl aber die Menschen" -- expressions in various languages displaying hope and solidarity circulate on the social media platform WeChat these days as countless Chinese expats living in Europe join people in their host countries in the tough war against the coronavirus.
From the Meuse River to the Dinaric Alps, from Rica to Piraeus, increasing numbers of Chinese enterprises and residents stand side by side with local authorities and frontline health workers, mainly by providing much-needed medical protective gears to help attenuate the sanitary shockwave in their second homeland, now the epicenter of the pandemic.
BUSINESSES IN SOLIDARITY
On Monday morning, dozens of boxes containing 50,000 medical masks dispatched from Changsha in south-central China were handed over to Bedburg city officials in eastern Germany. Written on the boxes was a German proverb, which translates as "mountains and valleys don't come together, but humans do."
The donation came from the Sany Group, a leading Chinese construction machinery manufacturer whose European headquarters is in Bedburg. The masks are destined for hospitals in Bedburg and Essen, both in North Rhine-Westphalia, the state with the largest number of confirmed coronavirus cases in Germany.
"During the most difficult time of the COVID-19 outbreak in China, Sany Europe's partners and friends from Europe provided great support to the Chinese people. With a grateful heart, the Sany Group quickly prepared the first batch of 50,000 medical protective masks in China to support the prevention and control of the COVID-19 pandemic in Germany," said Martin Knoetgen, chief executive officer (CEO) of Sany Europe.
Across the continent, Chinese enterprises are taking similar actions to fight the coronavirus hand in hand with their host cities.
The Jack Ma Foundation and the Alibaba Foundation have increased efforts to provide support and supplies to countries affected, especially Italy, Belgium, Spain, Slovenia, France, Austria, Denmark, Germany, Ireland and the Netherlands.
Chinese tech giant Huawei has also been busy sending out aid wherever possible, but especially to the European countries where they have a long history of partnership in establishing mobile networks and selling phones.
Alibaba and Huawei have both announced that other vital supplies urgently needed at this critical time will arrive rapidly.
The Paris branch of the Industrial and Commercial Bank of China (ICBC) has donated 40,000 N95 respirator masks to the Pitie-Salpetriere University Hospital in the French capital. The Piraeus Port Authority, operated by China's COSCO Shipping Ports Limited, has donated protective suits, single-use gloves and protective glasses to Hellenic Coast Guard officers.
KLM Royal Dutch Airline's partners in China -- China Eastern Airlines, China Southern Airlines and Xiamen Airlines -- have donated tens of thousands of medical masks to the Netherlands.
An exhaustive list would fill pages, but all these could be summarized by what a Chinese official said at a donation ceremony last Friday.
"The virus knows no borders. It is a common challenge for humanity," said Li Xiaosi, Chinese ambassador to Austria, when witnessing the donation of 150,000 protective masks and 3,000 protective suits to the Workers' Samaritan Federation (ASB), an Austrian aid organization primarily active in emergency medical services, by representatives of the China Railway Rolling Stock Corporation (CRRC), the world's largest rolling stock manufacturer.