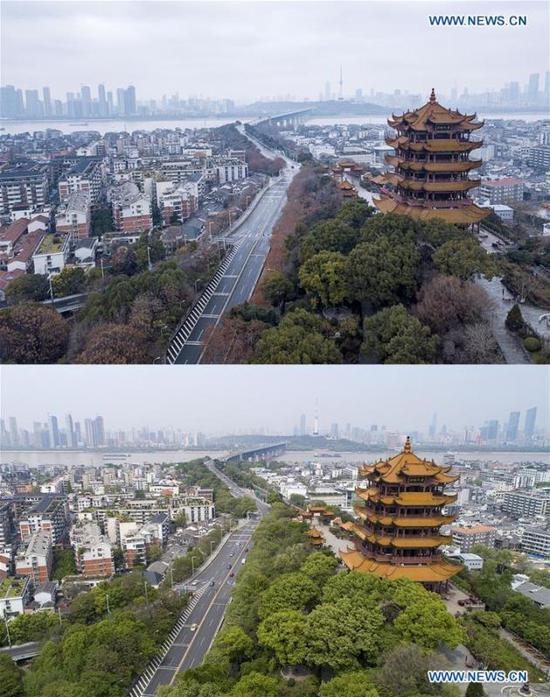 Aerial combo photo shows the Yellow Crane Tower and the Yangtze River Bridge in Wuhan, central China's Hubei Province on Jan. 26, 2020 (upper) and on April 8, 2020.
Special: Battle Against Novel Coronavirus
When Wuhan reopened after coronavirus lockdown on April 8, Siyi, a Wuhan native who is now living in Singapore, posted her memories of the city in her WeChat moments. Photos of the Yangtze River Bridge, East Lake Cherry Blossom Park and Wuchang River Beach, all took her back to the land that she has not set foot on for 20 years.
In 2000, Siyi met her husband from the UK and the two lived there for six years. Thereafter, they moved to Singapore and have been living in the country since then. Most of Siyi's relatives are still in Wuhan, while her mother-in-law is in a small town in southwest England.
As the coronavirus pandemic that first gripped Wuhan spreads globally, Siyi found herself at pain to see echoes of what Wuhan went through around the world.
Living overseas, she was late to see what happened to her hometown. Most of her updates about the coronavirus situation in Wuhan came from her classmates, many of whom are doctors at Wuhan Tongji Hospital and Wuhan Union Hospital of China, who discussed about the situation intensely in WeChat groups since the city was put under lockdown.
"I was still shocked when I saw news of the lockdown," said Siyi in an interview with China Media Group. Singapore at the time did not take aggressive measures and wearing masks was still a rarity. Her mother-in-law, who is a medical professional in the UK, said Wuhan overreacted.
"She said that every winter, thousands of seniors passed away because of flu in the UK. There is no need to be too concerned," said Siyi of her conversation with her mother-in-law who flew from the UK to visit them in Singapore in late January.
The family went out for dinner regularly, and seeing her husband and her mother-in-law's reaction, she said she had her moments of doubts over the necessity of a lockdown. "Thinking about the potential financial loss of the lockdown, I cannot help but wonder if the measure is disproportionate," she noted.
Responses from her relatives in Wuhan, however, stood in sharp contrast. They stayed at home and canceled their travel plans. Even her aunt who has the annual tradition of traveling during Spring Festival, decided to stay indoors. Her uncle sent her photo of his protective gears: swimming googles turned into protection equipment and layers of clothes to fend off the virus.
But bad news still reached her. Her father, who has acute kidney failure and needs to go to the hospital for dialysis every week, was suddenly left unattended. Because all residential compounds were on lockdown, her relatives, who have their own family members in need of help, could no longer take her father to the hospital.
"I felt my heart was drawn to Wuhan every single minute," she said. After she tried to contact the local neighborhood community and the mayor's hotline. A few volunteers got in touch and offered to take her father to the hospital. A family acquaintance also offered to help and her father was in the end transferred to the Nanjing Road District of Wuhan Central Hospital for further treatment.
"At a time like this, no matter how much money I gave them, it would not worth what they have done for us," Siyi shared on how she felt when she heard of the offers.
In February, as her mother-in-law was preparing to fly back to the UK, confirmed cases surged in Wuhan. Siyi bought two face masks for her mother-in-law and managed to convince her to wear the mask during flight. At the time, people in Britain were also coming to see the magnitude of the crisis, with friends of her mother-in-law persuading her to stay in a 14-day quarantine after arriving in the UK.
Siyi started to see hope since early March when Wuhan managed to keep the outbreak in check. The neighborhood community finally managed to find vehicles to transport her father to the hospital as the number of new patients declined. And in mid-March, no new infection cases were reported in Wuhan.
But just as situation improved, on April 1, she was told that her father passed away.
In the evening, Siyi posted a message on her WeChat moments, expressing her deepest regret for failing to see her father before he died. "I am sorry, father, all that I could do is to call your name on the other side of the phone. I am so sorry for not being able to say goodbye to you," she wrote.
Three days after her father passed away, a national mourning for those who have died combating the coronavirus outbreak was held. At 10 am, people stood in silence across China. Air raid sirens wailed and cars sounded their horns.
But as the situation improved in Wuhan, it took a quick turn for the worse in the other two cities that are close to Siyi's heart. In Singapore, after stringent travel restrictions and efficient contact-tracing operation successfully contained the virus's spread in the early days, the number of confirmed cases rocketed.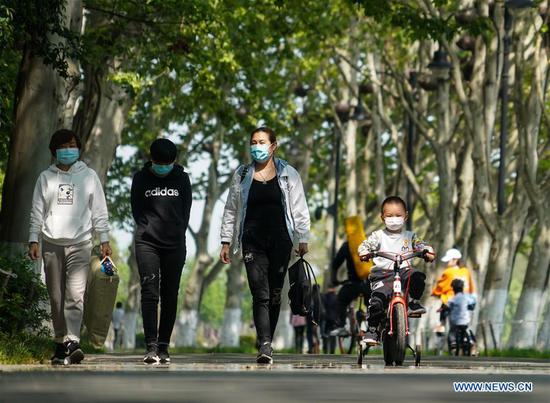 People enjoy themselves at the Donghu greenway in Wuhan, central China's Hubei Province, April 13, 2020. (Xinhua/Cheng Min)
A partial lockdown was imposed. Schools and non-essential businesses were closed, and people were urged to stay at home. The government implemented safe-distancing regulations that banned gatherings of more than 10 people outside of work and school, with a fine up to 7,000 U.S. dollars or up to six months in jail for offenders.
She began to witness change in attitudes on the part of her husband and her mother-in-law. Her husband, who used to go for a drink in the evening, has not stepped outside their home for weeks. Her mother-in-law insisted on calling them each night to check upon their health situation as fatalities shot up in the UK.
Events in the three cities in the past two months led her to become aware of China's ability in responding to crisis. "They built up temporary hospitals in such a short period of time, with so many medical professionals and volunteers offering to contribute to the epidemic control," she said. Her husband and mother-in-law, when talking about the speed at which China managed to respond to the crisis, were in awe.
Her plan is to take her entire family to visit her hometown Wuhan after the global coronavirus situation is under control. In Wuhan, one can see cherry blossoms in the spring, and night markets in the summer.
And she has words left untold to her father. She would save them until she returns to her hometown.